---
In August 2001, we spent a week in France - in the regions of Burgundy and Champagne. We spent half the time in Burgundy in a smalltown near Dijon, and the other half on the outskirts of Reims, the largest city in Champagne.
We arrived at CDG airport in Paris early in the morning and drove in the direction of Dijon. We visited Provins and Sens on the way. In Provins there is a "midieval city" with several attractions, churches, underground sites, a visitor's center and an admission charge for the main attractions. There are also several "spectacles" staged between April and November, which of course we didn't see because we were there in August, when everything is dormant. We had a look around and went on our way.
Sens is an interesting town worth a short visit.
Our base for the visit to Burgundy was the Chateau of Saint Sabine. It is located about 30 minutes west of both Dijon and Beaune. The nearest town of any size is Pouilly en Auxois. Saint Sabine is a tiny village and the chateau itself is a 3 star establishment with a very good restaurant. The fixed menus at the restaurant are priced at 150 ff and 295 ff. This chateau is perfect for those who enjoy staying out in the quiet of the country, but not too far from the city. Click here to see a picture of Alisa sitting on the veranda of the hotel and enjoying the view. There was plenty to see and do in the area.

IF YOUR BROWSER DOESN'T SUPPORT THE JAVASCRIPT FUNCTION USED HERE TO CALL UP THE PICS, CLICK HERE TO SEE ALL THE PICS TOGETHER ON ONE PAGE.
Dijon is the biggest city in Burgundy. It was delightful to stroll through the streets, and we found Alisa's favorite store for clothes shopping - Alain Manoukian. They have branches all over France as well as other countries of Europe. The only restaurant we ate at in Dijon was "La Dame d'Aquitaine", where we were severely disappointed. The setting is beautiful, in a cave below street level, the service was fine, the menu was impressive, but the food was tasteless. I think the chef was on vacation in Provence! Here are links to two sites with the details and descriptions of restaurants in Dijon as well as several other towns in Burgundy. One of the lists ("Alex's Recommendations") includes the one where we were disappointed, so I can't recommend any of his personally, but the other, ("Europe Guidebook") includes several that I know are good.
Beaune is one of the prettiest towns we have visited in France. It is a large village, or a small city. We found it a delight. We visited the Hospice d'Beaune, which was a hospital for the poor during the 18th & 19th century. It is an incredible museum now showing what it was like being poor and sick 100 years ago. Here's a picture of Alisa posing with the kitchen help. We also visited the Marche aux Vin, which is a burgundy wine tour with unlimited wine tasting of 19 different wines as you stroll through their wine cave. This visit was OK, but if you are a true wine lover, and can invest the time, it would be better to do some research and visit some of the many vinyards in the area. Also, in Beaune itself, there ia a selection of caves to visit, some with tours, most with tasting. The Marche aux Vins happens to be right at the center of town and is very popular. Price for the tour - 45 ff. We love wine, but we don't dedicate our entire trip to the grape. We usually search for good wines at dinner, taste some here and there, and then buy 3 or 4 bottles of what we've found most enjoyable to take home. I can recommend a great wine store in Beaune (there are many), where the sales people were very patient and were a great help. The store is called "Chantal Jullien" at 21 rue Carnot. Give my regards to Patricia.
Near Beaune, we ate at a wonderful hotel-restaurant, the Hostellerie de Levernois, located in Levernois whoch is about 5-10 minutes east of Beaune. The restaurant was one of the highlights of our trip. The whole experience was heavenly. We started out just before sunset under a canopy in the garden, drinking our aperitifs and nibbling on delicious hors d'ouvres. A small roly poly gentleman, who we later found out to be the head chef, took our order for dinner. I will not describe our entire meal, but I will say that everything was superb; the foie gras, the cocquille st. jacques, and especially the lamb stuffed with goose liver. Price for this extravaganza - 1530 ff.
Other places to visit in the area -
Chateauneuf en Auxois is a tiny hamlet with a castle and an impressive view of the entire area. It has several good restaurants. The castle is still in use as a community center and museum.
Pouilly en Auxois is a small town with a luxurious chateau/hotel. We went to a concert at the chateau which featured a cocktail during the intermission. The hors d'ouvres were excellent and I'm told the restaurant is excellent as well. This chateau is good for a splurge. It has a golf course next door, and a helicopter pad for arriving guests.
Avallon is a pleasant town to visit. It's located in the Yonne valley about 80 km northwest of Dijon. It's a great place for a stroll and definitely visit the church of St. Lazarus.
Vezelay is located near Avallon. It's old quarter is worth a visit. Don't miss the Basilique St. Madelaine and go around behind it. You'll find a lovely park with great views of the countryside; a great place to sit and contemplate. Click here to see Alisa once again, this time contemplating the countryside.
And for those who've come to enjoy burgundy wine, take the wine route between Beaune and Dijon, route (N 74), and visit all the little towns with the famous wine names, Gevrey Chambertin, Morey St. Denis, Clos Vougeot, Nuits St. George, and all the others. You can taste wine just about everywhere, in the towns, as well as at many vinyards out in the country.
CHAMPAGNE

| | |
| --- | --- |
| On the way to Champagne, we stopped in St. Florentin, a tiny town where we arrived during the local morning market, but our main goal on this day was Troyes. Troyes was a delight. We strolled around the old town and had lunch there. This is a lovely town with lots to see and definitely a place to go back to. Click on the picture at the right for a better look at Troyes. | |
We arrived in Reims and stayed at the L'Assiette Champenois, which is located just on the outskirts of Reims in a town connected to Reims and called Tinqueux. Actually, we could have walked to the center of Reims in about 20 minutes, but usually we drove in as there was no problem parking. The drive takes about 5 minutes. L'Assiette is listed in Relaix Chateaux, but is more a residence than a chateau. It is a beautiful hotel and the service, the restaurant and the room were all 4 stars as advertised. The restaurant deserves special mention. It was one of the best we ate at during our visit. Below is a picture of this beautiful hotel.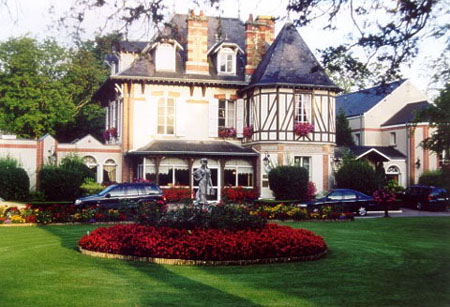 L'ASSIETTE CHAMPENOIS - OUR HOTEL IN REIMS
The Reims cathedral is indeed impressive and is the main attraction in Reims other than the champagne houses. There are many champagne houses and many offer free tours of their caves. We went to Eparnay and there visited the Mercier caves. The tour is very professional, and very impressive. As far as I know, it's the only tour done in a "train", a chain of laser guided open passenger cars which would look right at home in Disneyworld. The guide spoke perfect Queen's English (she's actually English) and the kilometers of caves are very impressive. The tour cost 45 FF and included a taste of champagne at the end, or for an additional 30 ff, a tasting session including 3 different champagnes.
Other than the main drag, called Avenue de Champagne, Eparnay is a drab and dismal town. The Avenue de Champagne is lined by the impressive and in some cases ostentacious buildings of all the major champagne producers. Most offer tours and/or champagne tasting. Here's a picture of one of the more outlandish champagne houses.
Another town we visited was Laon. Laon was a very pleasant surprise. It's a city hardly known by the tourists, but is a splendid town with great views and we enjoyed the several hours we spent here. Here's a picture of the entrance to the walled city.

| | |
| --- | --- |
| The other big surprise of this trip was a little town called Pierrefonds. It was mentioned in a short blurb in my Fodor's guide, and I really didn't know what to expect. We made a long nasty drive to get there, but were glad we did! If you are into castles, this is the place. The castle here at Pierrefonds is the most incredible we've ever seen. It's straight out of a fairy tale and the (unguided) tour through it is fantastic. Click on the pic to the left for a better look. | |
The town itself is lovely, right on a lake and is popular among Parisians for a country visit, as it's only about an hour or so from paris. We enjoyed our visit here until it started raining hard, and then we headed back for Reims.

Our most impressive meal of the entire trip was in Reims. We ate at the 3 star Michelin rated restaurant Les Crayeres with highly rated chef Gerard Boyer. It's also a hotel, but the restaurant is the main attraction. I can only quote Fodor's to describe it: "The building is magnificant, too, a late 19th century chateau surrounded by an extensive park. The decor is opulent, typified by ornate chandeliers, towering ceilings and gilt mirrors." This was our most expensive meal ever in France. There were at least 5 waiters hovering around us. Of special mention was the warm goose liver served with rasberries, lightly smoked salmon barely cooked and served warm, and the veal I had with lemon and artichoke. It was a real gastronomic experience.

All in all, we had a great time. This area of France is fairly quiet in August, but not deserted. The scenery is great and most of the restaurants are open.
---
last updated: 28.Feb.2003
| | | | | |
| --- | --- | --- | --- | --- |
| | | | | |
| | VISIT MY HOME PAGE | | EMAIL ME IF YOU HAVE ANY QUESTIONS | |